According to E Online, Kanye happened to be on the same LA-bound flight yesterday with some of the castmembers when he confessed he regularly catches their show...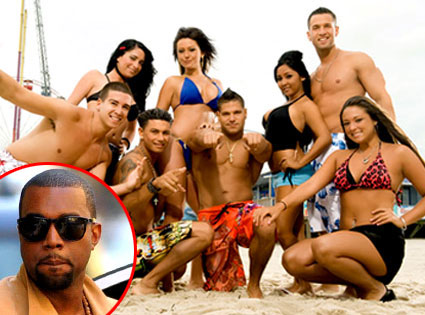 "He said he doesn't really watch tv but he does download our show," Ronnie Ortiz-Magro told me at yesterday's Ustream party at the London, where LMFAO performed.
Ronnie rolled up with Pauly D and Vinnie, shortly after Sammi left the same bash, and stayed mum on their current status.
"There's ups and downs...you'll have to watch," he said. Sammi refused to answer any questions about him earlier.
While most of the Jersey crew (including Snooki) was busy hitting all the parties last night, including Perez Hilton's bash, the V-Moda soiree and the House of Hype, The Situation was nowhere to be seen.
"He's sick and in bed," a source told me of his whereabouts last night.
Hopefully, he'll feel well enough for VMAs today and to start dancing tomorrow!
SOURCE: E Online